Fabulous fashion and fishing at Razzles Mainstore
Today I decided to visit Razzles Mainstore and take a look at some of things that are selling inside the store. Razzles is an interesting place that has goldhunt, fishing and trivia that you can play when you visit here. I was pleasantly surprised by some of the lovely dresses and things for sale. Razzles is a great place to earn lindens by playing the trivia, doing fishing and goldhunt while also being a nice place to go shopping.
photograph showing the outside of the store. The place has a lovely sign and nice outdoor area.
If you haven't been to Razzles already. I definately recommend that you go to check out the Razzles Mainstore and enjoy the fishing and Goldhunt and games that Razzles has outside. The image below shows a beautiful area of trees at Razzles and outside are animated butterflies flying around some mushrooms in the garden area. The area outside the store looks wonderful and very welcoming.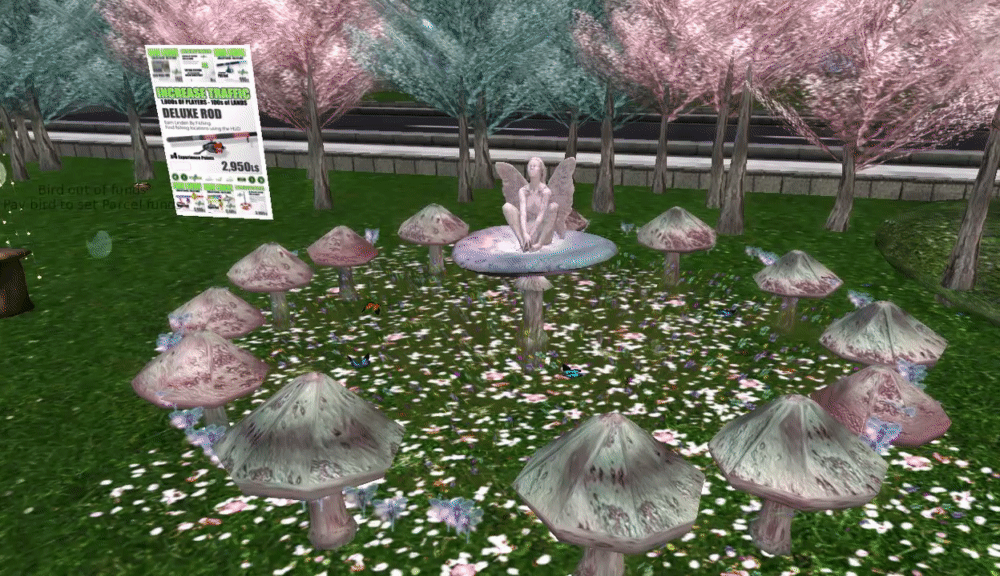 I think it looks amazing when a store has beautiful surroundings outside of it and when a store looks great on the inside too. The area outside Razzles is very eyecatching and lovely to visit. There is a lot of things you can do at Razzles and it is a very fun place to come and see. I love how colourful the outside area is at Razzles.
At Razzles there are some really nice Gacha machines that you can play on to win some lovely fingernails and cute cat pillows. In particular I think the cat pillows are extremely gorgeous and they are only land impact 1 aswell. Costs 10L$ to play the machines that have fingernails whereas the cute cat pillow gacha machine are 25L$ per play. 

Photograph of the 4 gacha machines available to play on at Razzles Mainstore. on the left is the machine where you can win some lovely cute cat pillows while the other 3 machines are for winning some fancy fingernails.
This photograph above shows the cat pillows that can be won from the Gacha machine or you can choose to buy them from off the shelves. I bought the rainbow cat pillow and when I played on the Gacha machine I won the white pillow. I think they look adorable and it is great that these pillows are only land impact 1 so they are purrfect to place in homes and spaces.
Some other things that I spotted in Razzles were these spotty leggings. I think these look absolutely awesome and I love how they have been displayed on hangers in a row. I love how there are different colours that you can pick from and they are fairly cheap to buy too for just 50L$ or 45l$ each if you have the discount when buying them.
There are also more leggings with other patterns on aswell if you fancy some leggings that are not spotty. There are plenty of leggings at Razzles to look at and many other nice clothes too.
I also noticed some really cool shirts at Razzles that were pride themed. It is great to see some pride shirts and I especially love the shirts that have lips on them. The colourful clothes In Razzles look amazing. It is good that these designs shown above come on both black and white shirts because it is nice to see the designs against both black and white backgrounds.
There are loads of different dresses at Razzles to buy that look amazing. I especially love the short dresses shown in the image on the right with those pretty patterns. The dresses on display look great and it is nice to see different colours and patterns to choose from when buying.
Overall I think that Razzles Mainstore is a wonderful place and it is well worth visiting if you haven't done so already. The cat pillows are gorgeous and I love how many things at Razzles Mainstore are for sale in a nice variety of different colours.
If you want to come check out Razzles Mainstore feel free to teleport to:
http://maps.secondlife.com/secondlife/Scott/91/232/27
Sat, Jan 30 2021 7:35:54 PM PST With great great pleasure I am announcing that The Snuffles LAB IS BACK! Snuffles LAB is a bit like POKEMON LAB! Snuffles Lab You can check and find all the possible snuffles skins to breed and as you click on them you can also see if any are for sale. THE SNUFFLEMANIA HAS OFFICIALLY STARTED I fell in ♥ with Snuffles again. They are just so cute!